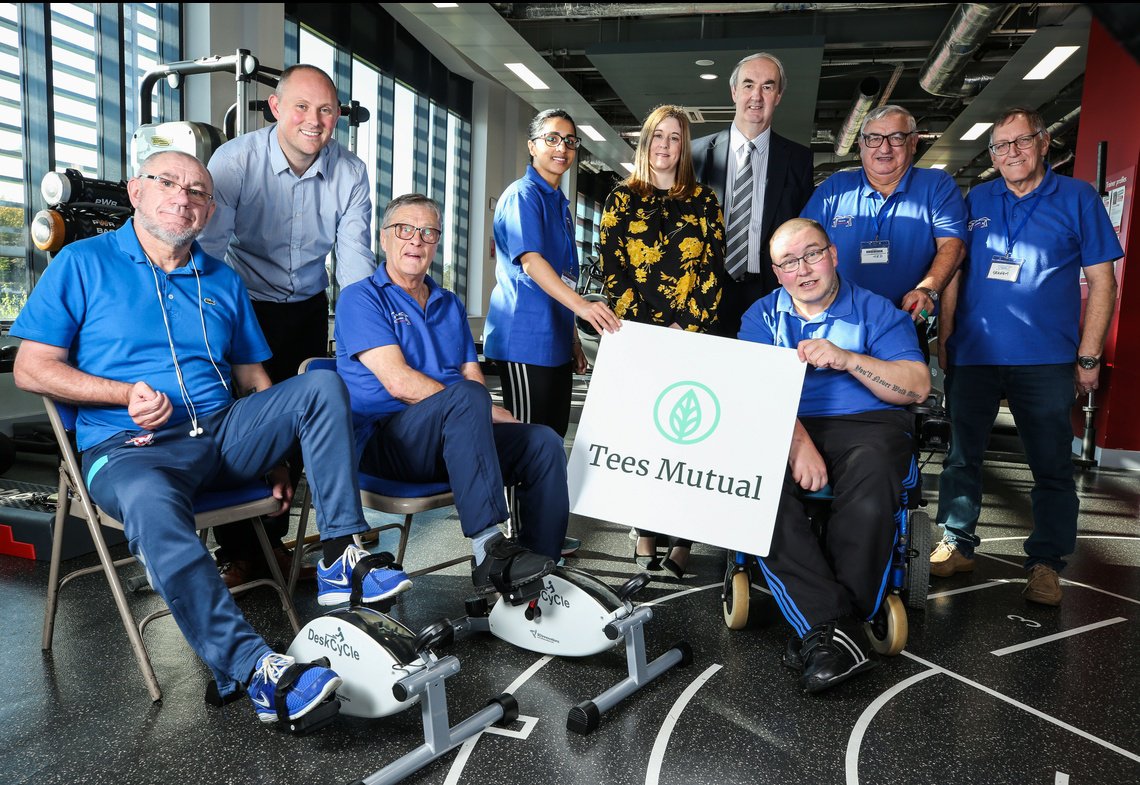 Tees Mutual Grant Helps Pioneering Stroke Trial
Members of a Teesside stroke support group are the first people in the world to benefit from a pioneering rehabilitation technique that academics hope will speed up recovery from the devastating condition.
Teesside Stroke Club – who are the latest recipients of an award from the Tees Mutual Community Fund – have been helping trial the groundbreaking methods that researchers believe could dramatically improve their prospects of getting better.

The Teesside University team, led by senior sport and exercise science lecturer Dr Daniel Eaves, have tested their ideas on some of the club's 85 members – and early results are highly encouraging.
The technique involves imagining a feeling of motion while simultaneously watching a video demonstration of an everyday action. Dr Eaves and his team of PhD students have published a paper in a respected journal arguing that this aids the brain's recovery more rapidly than currently used treatments.
"The key point is getting people moving again and what we are doing is almost like physical practice – asking patients to imagine doing the movements, while they see the same action at the same time," said Dr Eaves.
"It's about relearning an action, repeating the same thing over and over again and monitoring how the brain and the participants' behaviour adapt to this form of training.
"Our previous studies show there is significantly more activity in motor regions of the brain if people watch an action while imagining it at the same time – and we are now investigating if that aids rehabilitation and improves daily lives."
Chairman of Teesside Stroke Club Ted Docherty successfully applied to the Tees Mutual Community Fund for a grant of £410 to buy three exercise desk bikes that will enable members to use the methods at home.
"It's such a big help and it's great to see a local friendly society helping a local charity and we've all signed a card to thank Tees Mutual for their donation," said Ted, who was asked to come along to help make members' tea and has been involved ever since.
"The bikes are sturdy and low enough for people in wheelchairs to use at home. We get a good deal on them and the feedback from those who have already used them has been excellent. We have 26 members who we feel will benefit from the new bikes."
As well as its 85 members, the group also has nine volunteers and 22 carers who regularly attend three Thursday sessions at Middlesbrough Sports Village. Other activities include carpet bowls, cookery, hanging basket making and social gatherings.
"After a stroke, many of our members lose their ability to work and with this in mind we keep our subscriptions to a minimum," said Ted. "The sessions are a lifeline for some people. It's fantastic to have experts from Teesside University with us who are giving so many patients a real boost in their recovery."
Strokes are the most common cause of motor deficiency, leaving around three out of ten sufferers with chronic motor deficiency.
"It's fantastic to give our students the opportunity to work on research that makes a real difference to people's lives," Dr Eaves added.
"It's also been a humbling experience to work with volunteers and patients for research purposes. They have accepted our aims and gone to great lengths to promote and facilitate the work we're doing.
"I believe the club's particular strength is their ability to build emotional resilience in their members, which is necessary to deal with such as life-changing event.
"Our research is aimed at providing evidence that break new ground. In the short-term, the results of our work will ultimately feed back into the practices of the club. In the longer term, the members have had the foresight to recognise that these findings will hopefully contribute to the evidence base for improving post-stroke rehabilitation methods in the wider population."
Tees Mutual chief executive Phil Carey said: "Many of us have been through the heartache of seeing a loved one suffer a stroke and we all know how devastating it can be both for patients and their families.
"We were extremely impressed by Ted's application and the supporting letter from Dan, which was glowing in its praise for the work the club does and also told us about the exciting trial that's taking place.
"This is exactly the kind of community-based group we wanted to help when we launched the Tees Mutual Community Fund.
"It makes you feel very proud to come from Teesside and we're delighted to be able to play our part in what we hope will help people throughout the world who have suffered strokes to make the quickest and best recovery that they possibly can."
The first phase of the trial, run in conjunction with Public Health South Tees, has now ended, but Dr Eaves hopes to secure funding to enable it to continue.
Other causes supported by the Tees Mutual Community Fund so far include Cleveland Schools Football Association, which faced the possibility of reducing the number of elite teams it runs after having its funding slashed, and shirt sponsorship for Tees Valley Walking Football Club ahead of their trip to play in two tournaments in Spain, and Kader FC U15 team.
Tees Mutual began life as the Trade Union Friendly Collecting Society in the 1890s to help ironstone workers save for their funerals. It was later renamed the Kensington before adopting its present name in 2017.
The friendly society is owned by its 8,000 members and provides funeral savings policies, savings plans and income protection.
Click here for more details of the Tees Mutual Community Fund.