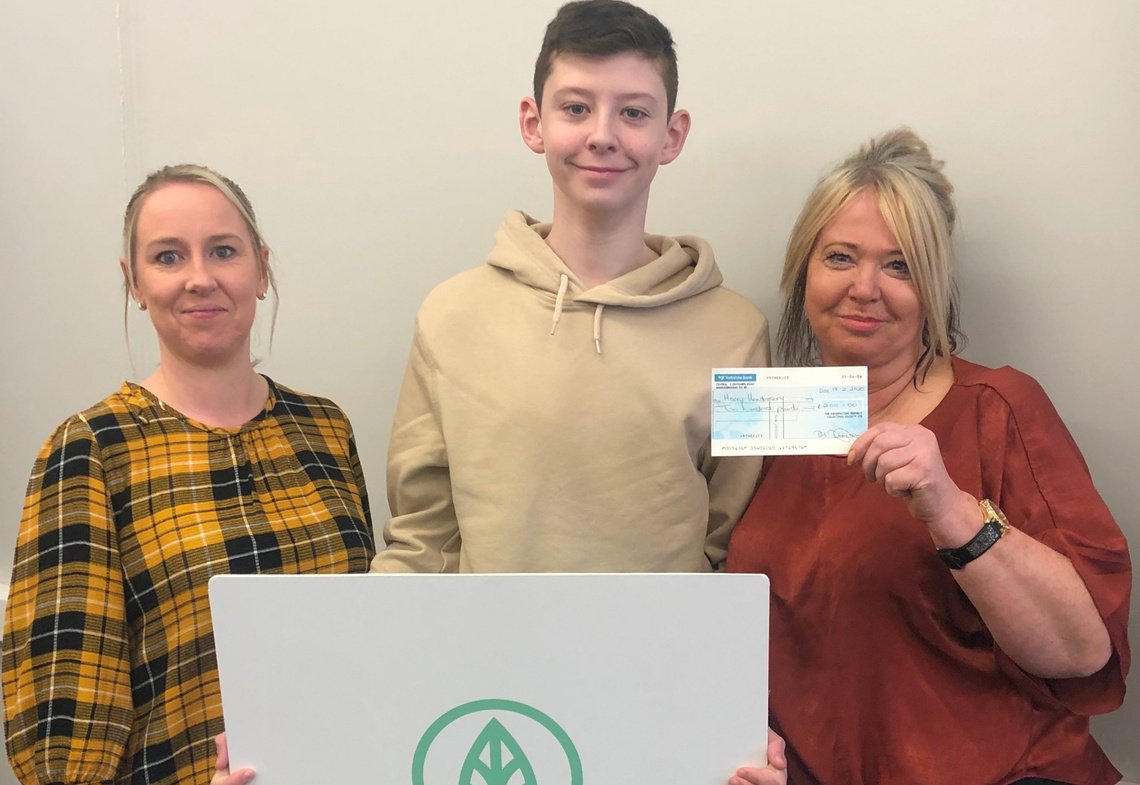 Tees Mutual Helps Harry Put Best Foot Forward
The Tees Mutual Community Fund has stepped in to pay for a talented dancer's official kit after he was chosen to represent Team England at the Dance World Cup in Rome.
Twinkle-toed Harry Henderson, 14, from Marton, has been dancing for four years and has already won a host of awards and trophies, but the World Cup appearance is his biggest break so far.
"I am so grateful to Tees Mutual for their kind donation," said Stokesley School student Harry.

"This means I'm one step closer to reaching my target of raising £2,500. I have been running a GoFundMe page and that can be accessed from my Facebook page.
"I would love it if anyone could donate or reach out to me to support. But once again, I'd like to thank Tees Mutual as it means so much to me."
Harry followed in his sister's footsteps after she got into dancing and now trains at Tabs Studios Performing Arts Company at least three evenings a week, as well as doing extra one-to-one lessons.
He started entering championships run by Theatre Dance Council International and has now won numerous titles, including Junior Modern Champion of Champions Overall Championships.
He is also a member of all-male dance group, the Phoenix Boys, which is run by Simon David Huntley and is all about bringing boys together to share their love and passion for dance.
Simon invited me to a workshop day with BBC Midlands in Birmingham and then asked him to enter the Dance World Cup 2020.
"I had to send videos of my solos to be reviewed to see if I got a place on Team England," says Harry. "A few days later I was told I made the team."
"I'm now trying to fundraise for £2,500 I need and hope I can make enough money to enable my dream to come true to compete for my country."

Tees Mutual's donation of £200 will pay for his England official kit. He also needs £800 to pay for costumes for his four routines, £358 for his flight, £843 for ten days' accommodation and £149 to cover entry fees.

To donate, visit gofundme.com and search for Harry Henderson.
Applications are invited from causes as diverse as youth theatres and dance groups to local self-help groups and bereavement services who want to share in the £5,000 Tees Mutual Community Fund.
Donations, usually up to a maximum of £250, give a helping hand to the wide range of organisations who help bring fun and fitness, friendship and support to local people.
Grants must be for a specific named project rather than general running costs and must be open to evaluation afterwards and money will not be given for religious or political purposes.
Applications from Tees Mutual members and their families will be given priority. We will also give special consideration to projects or initiatives that address hardship, poverty or suffering.
Causes supported so far include neonatal charity Leo's, Teesside Stroke Club, Cleveland Schools Football Association and Tees Valley Walking Football Club.
To apply, download and complete this application form and send it to Tees Mutual Community Fund, 1-3 Kensington Road, Middlesbrough TS5 6AL.
Our picture shows Tees Mutual's Jade Lambert and Amanda Robins presenting Harry with his cheque.