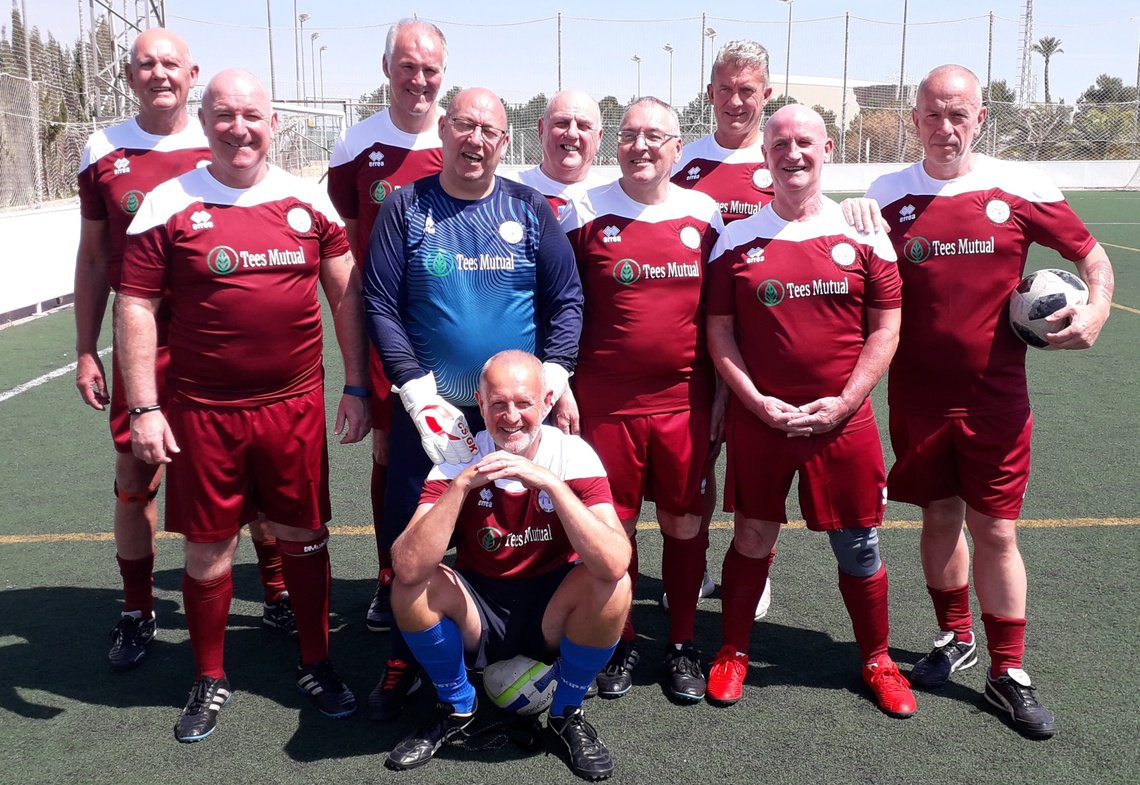 Walking Footballers Plot Euro Return
Ambitious walking footballers are making plans for a bigger and better European campaign after a donation from the Tees Mutual Community Fund helped them take part in two tournaments in Spain.
Tees Valley Walking Football Club played ten games during the week-long trip, proudly wearing shirts bearing the Tees Mutual logo as they came third in two competitions held on the Costa Blanca.
"The trip was a massive success, although the heat was horrendous, anything from 32 to 37 degrees," said club chairman Andy Charlesworth.

"It was hard but the games were all played in the right spirit and it really was the experience of a lifetime.

"They've invited us back next May and we're planning to take 14 players after taking nine this time."
The club's oldest player, 72-year-old John Strangeways, played every minute of every game during the tour.
Andy started the club in June 2017 and it's been onwards and upwards ever since. Players range from 50 to 72 and several of them have recovered from heart attacks and undergone joint replacements.
There's no running or physical contact allowed, but Andy says the sport is great for building up fitness.
"I have rheumatoid arthritis and haven't had a tablet inside my body for two and a half years since I started playing the game," he said. "I was nearly 18 stone and now I'm 15st 10lbs – that's what it does for you."
The game is growing rapidly and there are now several teams in the region including Grangetown, Redcar, Middlesbrough Fit, Peterlee, Scarborough, Richmond, Catterick and Northallerton.
Tees Valley Walking Football Club recently launched a women's session and a mixed team lifted their first ever trophy when they were awarded the fair play award in a tournament at Eston's Herlingshaw Centre during the summer.
The club hope to add more silverware to the cabinet when they host the third annual Taylor Wimpey Trophy on Sunday September 15.
Andy would welcome more players, especially men aged from 50 to 60 and women aged 35 and over for the ladies' squad. Training takes place at Goals in Middlesbrough from 5.45pm until 7pm every Monday and Thursday. Call Andy on 07514 347702 for more information.
Tees Mutual began life as the Trade Union Friendly Collecting Society and was later renamed the Kensington before adopting its present name in 2017. It is owned by its 8,000 members throughout the TS postcode area and provides funeral savings policies, savings plans and income protection.
Click here for more details of the Tees Mutual Community Fund.